You're trying to burn fat and build muscle wrong.
But it's not your fault. One of the biggest reasons why so many rarely see results is that they're getting the wrong information.
Problem #1
Most best-selling diets start with marketing.
Mainstream diets are often created with a marketing claim before a single page is written. Authors are more concerned about what will sell their book rather than how good following the advice in the book will work for you.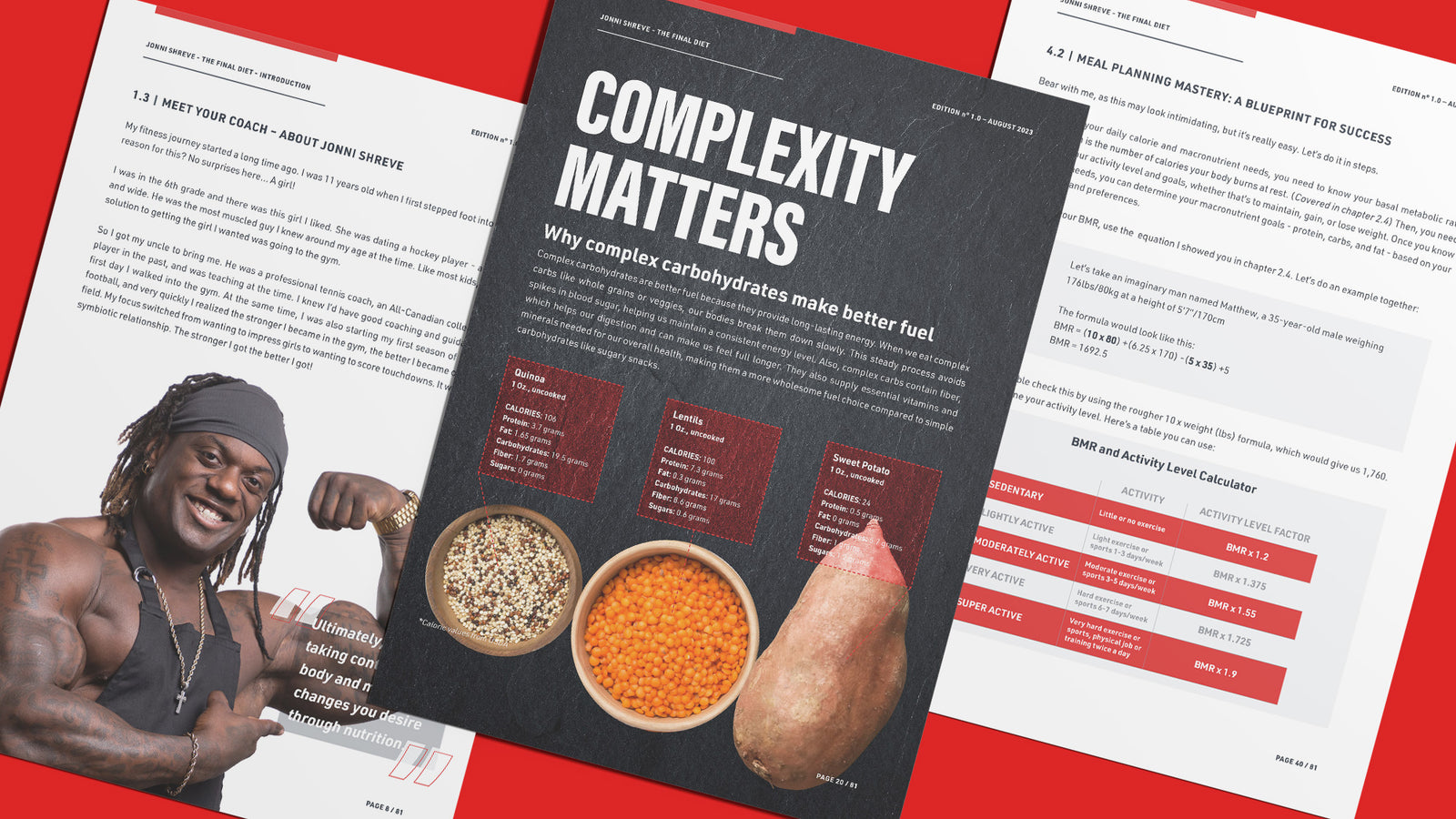 Problem #2
Zero carbs isn't the answer.
It's true that restrictive dieting can sometimes deliver quick results, but be prepared to sacrifice a normal life. These "miracle" diets are expensive, confusing, and usually disappear as quickly as the results they promise.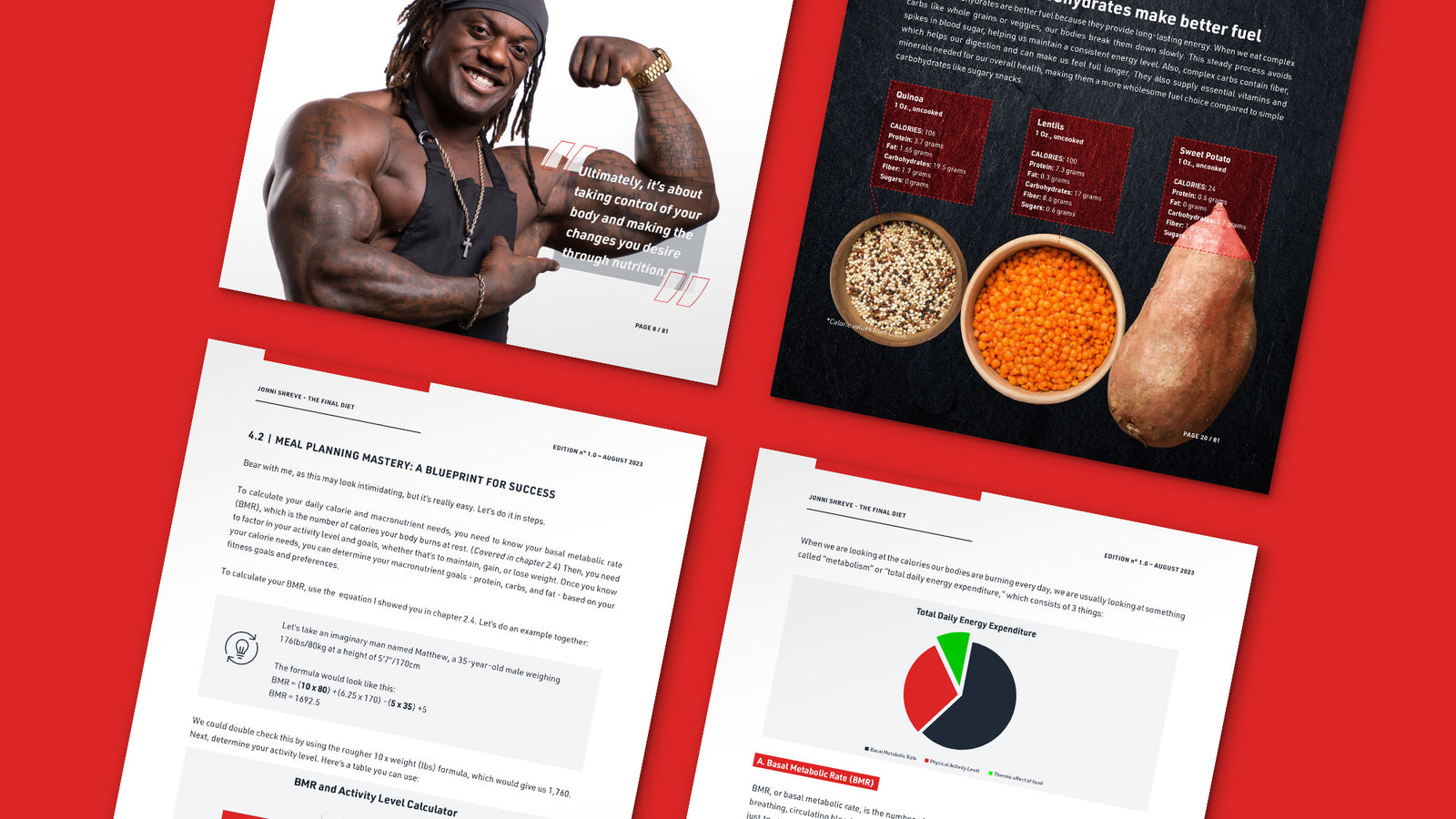 Problem #3
Every day is different.
Many nutrition books simply don't adjust to the progress you may, or may not be making. What works on day 1 one won't always work on day 100. It's impossible to continue seeing results if your nutrition never changes.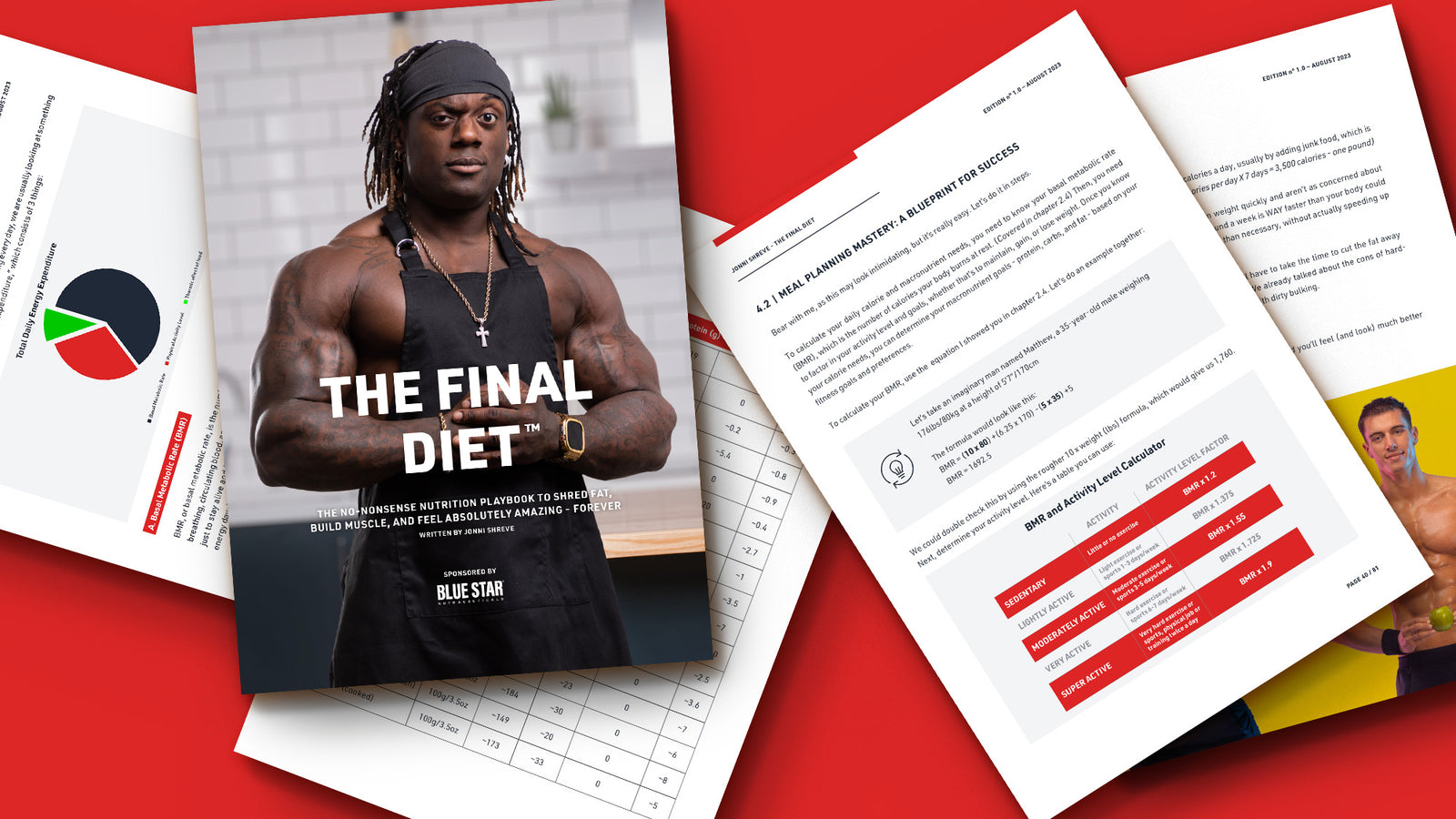 More than a diet.
Inside The Final Diet, we go deep into the methodologies of why, what, and how you'll be eating from this point forward. Yet, what makes The Final Diet so special is not just the immediate transformative effects on the health, look, and feel of your physique - but also on your mindset and mental health, helping ensure your lifelong success.
It's never been easier
Everything you need to know. And nothing you don't.
The Final Diet is the nutrition playbook for anyone who wants to burn fat and build muscle for good. Everything you need to know to completely transform your body is included. Save $1000s on professional coaching. Save months of following diet fads.
Finally, all you have to do is follow along.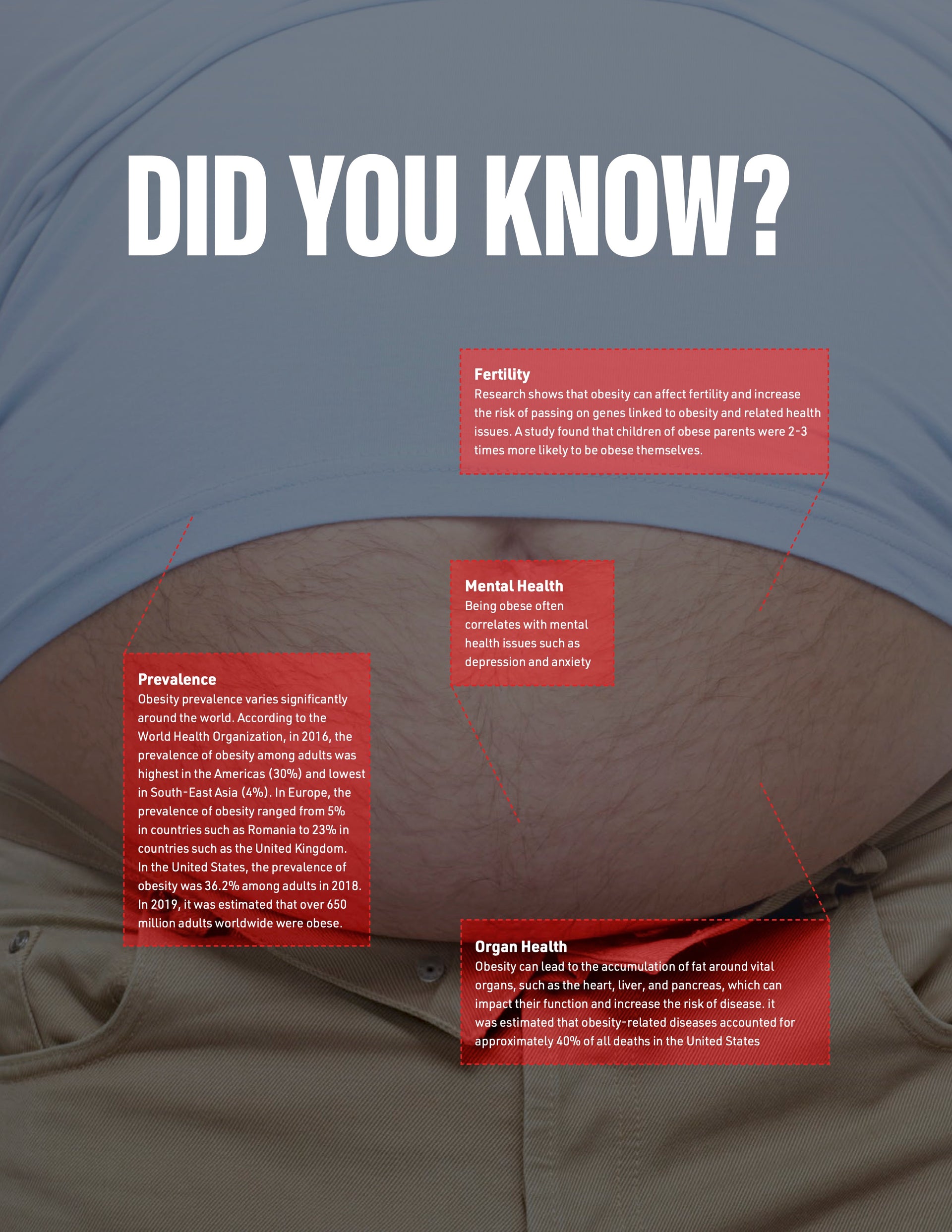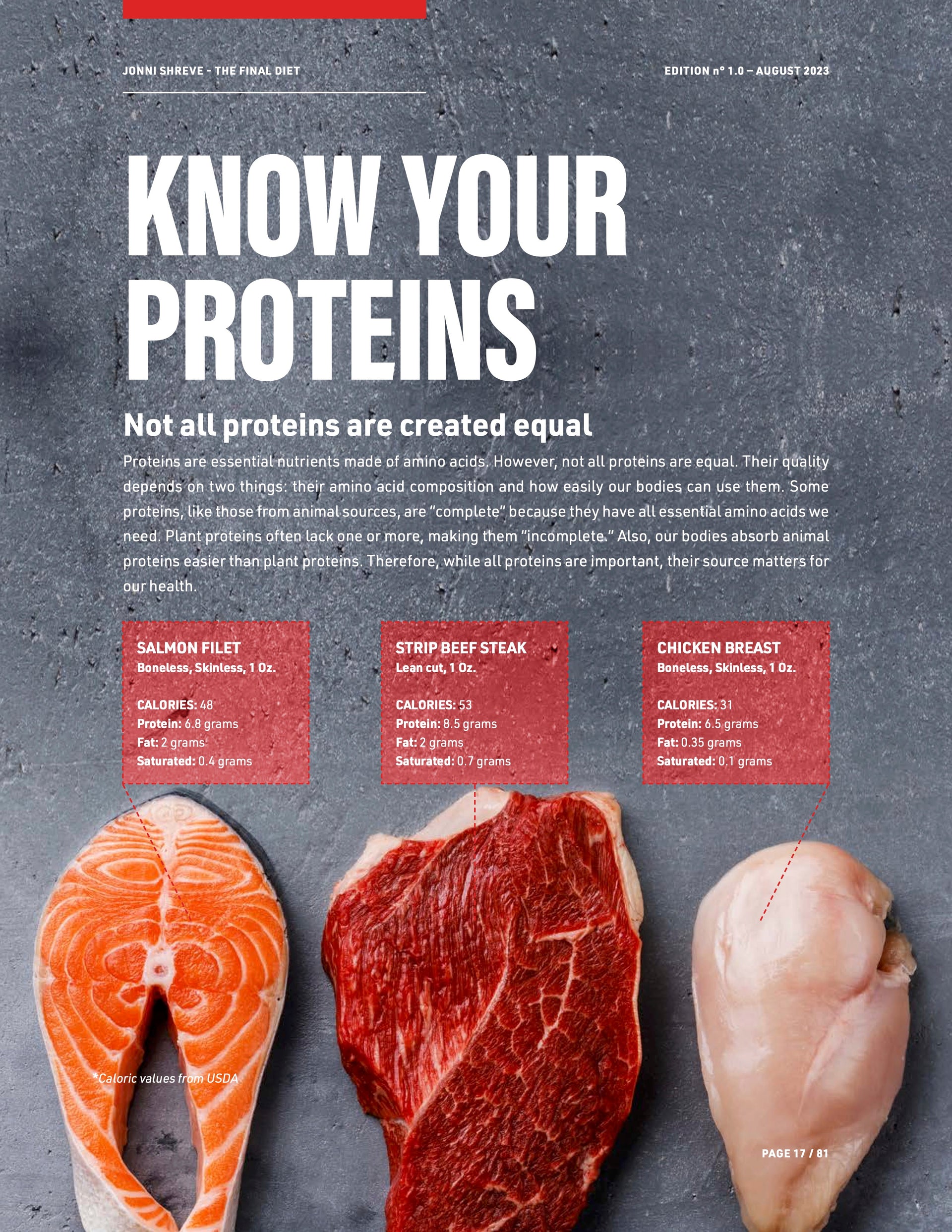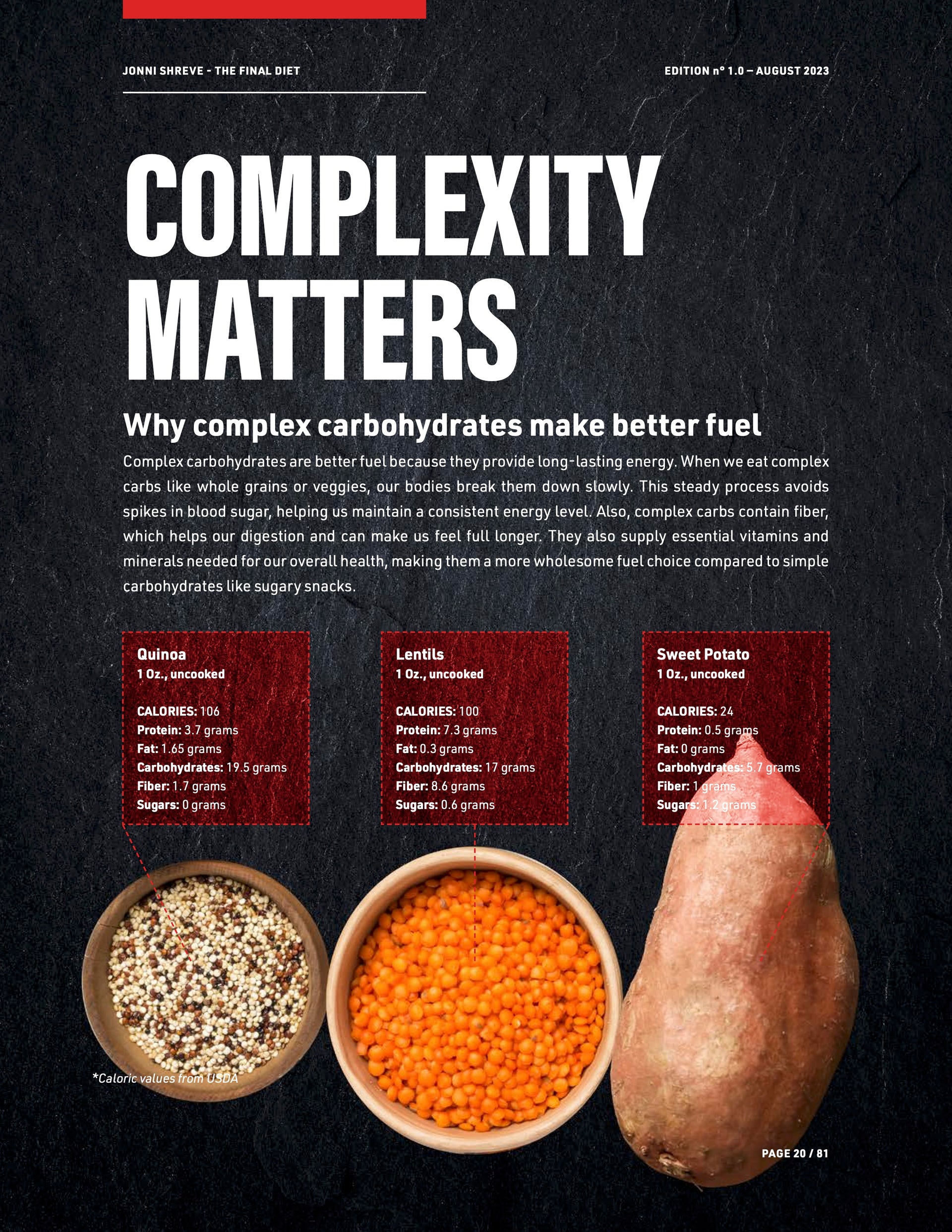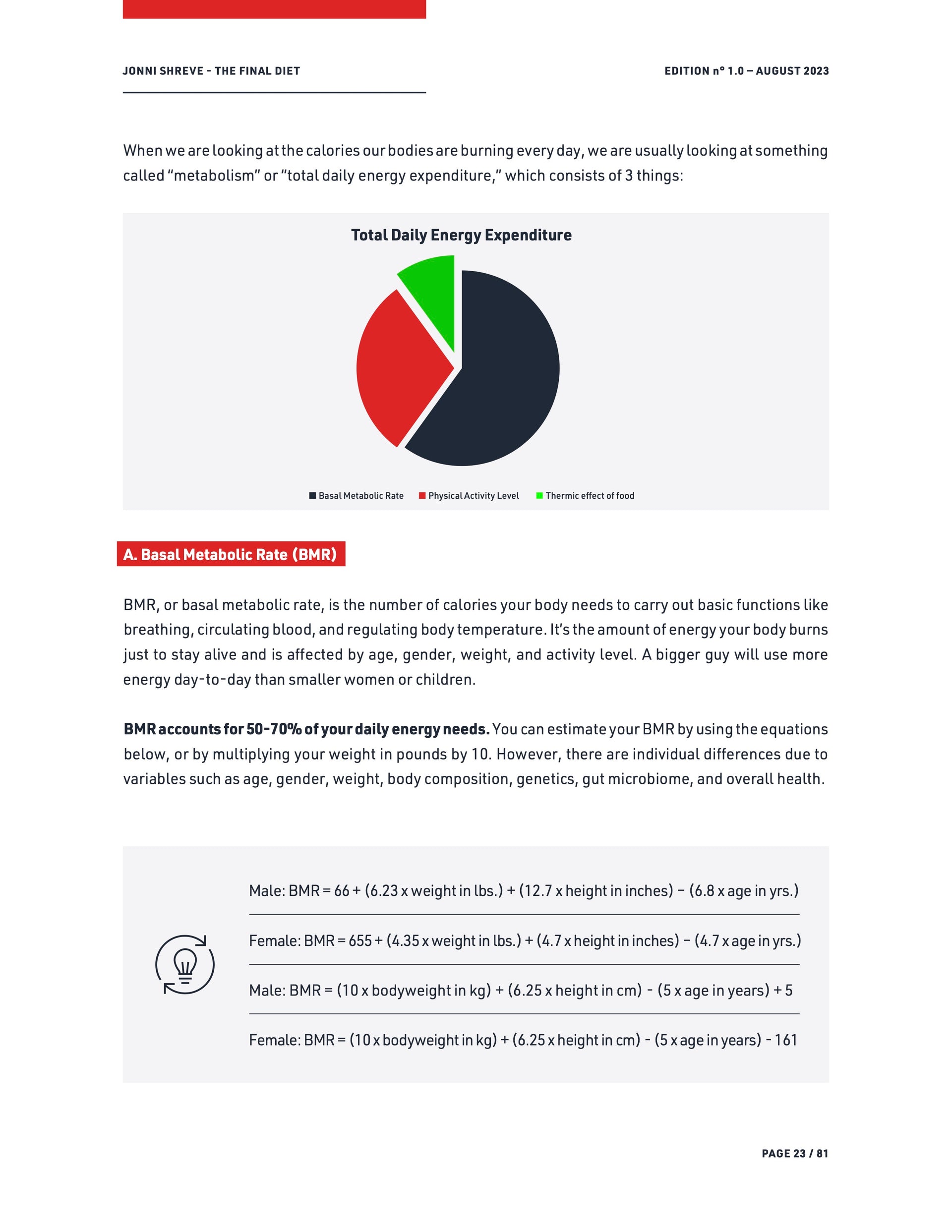 In The Final Diet, you'll discover:
How to demystify calories:

How to strategically "cheat" on your diet:

How to avoid the "yo-yo" effect:

That no food is off limits:

Why "bad" foods aren't really bad at all
Incredible transformations are 100% possible
I've been a part of thousands. After helping thousands around the world reach their desired physique, it's safe to say I know a thing or two about burning fat and building muscle.
Alex Argame
Incredible transformation
Alex achieved an astonishing transformation, sculpting his body through dedicated workouts and disciplined nutrition. His perseverance and hard work resulted in a remarkable head-turning change that has now inspired many around him.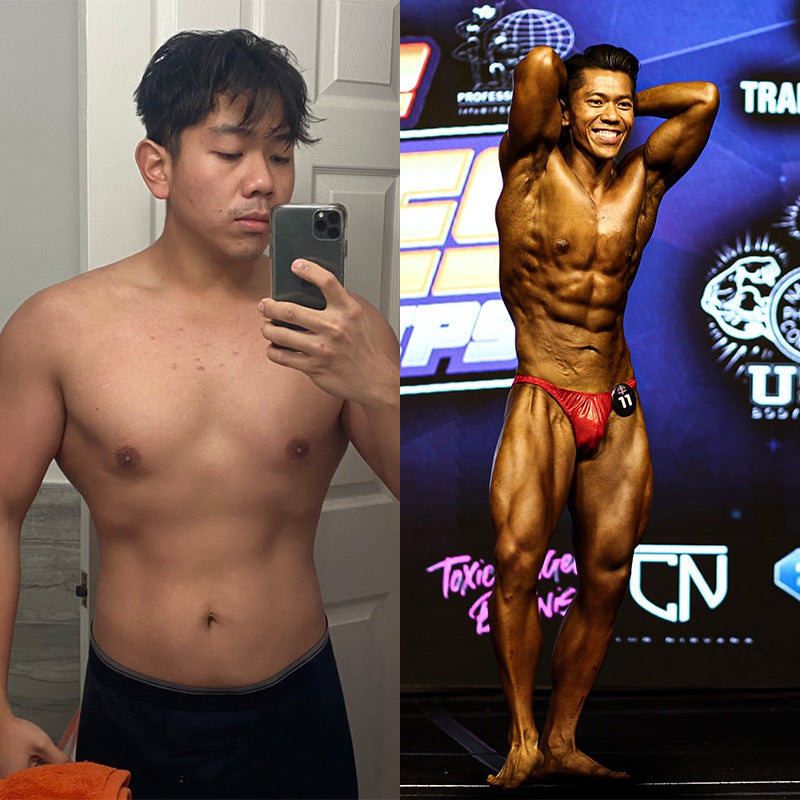 Tina
Incredible transformation
Tina's awe-inspiring journey took her all the way to the stage. Remarkable! Her unwavering commitment to training, nutrition, and self-discipline led to an astonishing physical transformation and she's now inspiring others with her incredible story.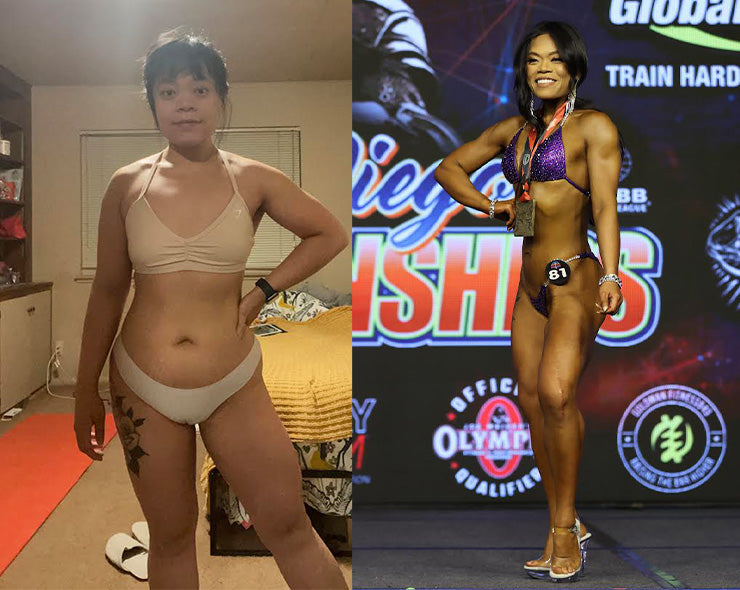 Arielle Schipani
From "dough" to "pro"!
Arielle's extraordinary dedication and relentless training propelled her through a remarkable physical transformation, ending with her shining on the competition stage. Her journey showcased not only her impressive physical changes but also her unyielding determination and perseverance.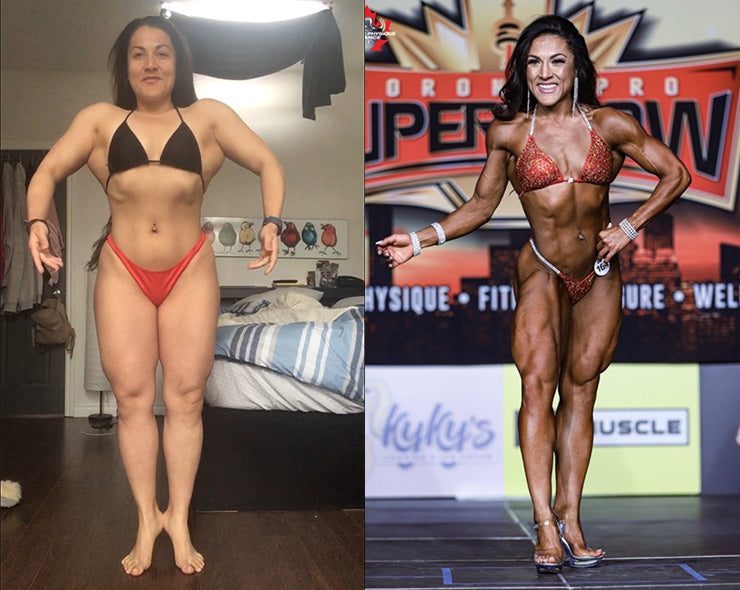 Dakota
Add slabs of lean muscle
Under Jonni's expert guidance, Dakota harnessed his determination to pack on impressive, lean muscle mass in an astonishingly short timeframe. Dakota's commitment showcased the power of tailored training and nutrition, illustrating that remarkable results can be achieved when the right guidance is available.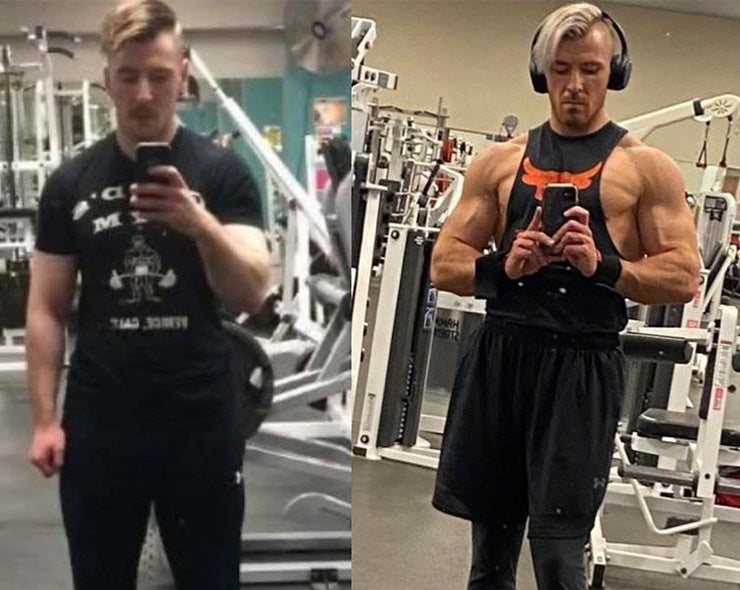 "My diet is in check now..."
Frequently Asked Questions
Most popular
The Final Diet is the exact methodology myself and all of my high-priced coaching clients use to transform their bodies into the cutting-edge physiques they have today. It worked for them. If you follow it exactly, it will work for you.
Yes. The science-backed strategies in The Final Diet will work for you whether you're an ectomorph, mesomorph, or endomorph.
The Final Diet takes all the guesswork out of how to eat for the results you desire and deserve - regardless of your age or your gender - and regardless of your starting point.
Absolutely not. The nutrition principles you'll learn in The Final Diet will work whether you shop for big discounts at Costco or dine out at five-star restaurants.
There are always success stories with mainstream diet fads, but their success rate is very low. My approach is not just sustainable and science-backed, but also provides you with the tools you need to strengthen your mind and live a flexible lifestyle so you can dine out and enjoy life.
100% it is. The Final Diet covers both fat burning and muscle building. Let's get your shoulders and chest filling out that shirt!
No. I hate that stuff as much as you do too. The price you pay today is all you ever have to pay.
That depends on your goal and your starting point. If you're really overweight, you'll see results quicker than someone who only has a few pounds to lose. If you're a skinny person trying to build muscle, you'll get results quicker than someone who is already fairly developed. Regardless of your starting point, you'll progress in a way that is just so much more enjoyable than you ever thought possible!
Achieving Your Goals
Unlike generic programs, my ebook is a result of 20 years of personal experience and fine-tuned techniques that have proven successful for myself and countless others. You'll receive exclusive insights and personalized strategies tailored to help you achieve your dream physique efficiently and sustainably.
By consistently applying the nutrition and training methods outlined in the ebook, you can expect significant improvements in muscle gain and fat loss. Numerous individuals have achieved remarkable transformations, and with dedication, you can too.
Individual results may vary, but with dedication and consistency, many users experience noticeable improvements within the first few weeks. Remember, achieving lasting results is a gradual process that requires patience and commitment.
Customization and Flexibility
Absolutely! Whether you're a beginner or an experienced fitness enthusiast, this ebook caters to all levels of expertise. It starts with a solid foundation, gradually progressing to advanced methods, ensuring everyone can benefit from the program.
Convenience and Access
While a gym with essential equipment is ideal, the ebook provides adaptable workouts suitable for both home and gym settings. You'll learn how to maximize your results regardless of your training environment.
Yes, the ebook is available in a digital format that can be accessed on smartphones, tablets, computers, or any device with PDF reader support for your convenience.
Support and Satisfaction
Yes, I'm committed to your success! Upon purchasing the ebook, you'll gain access to our dedicated community forum where you can connect with like-minded individuals, seek advice, and receive ongoing support from me.
I'm confident that you'll find immense value in the ebook. However, if for any reason you're unsatisfied, rest assured that your purchase is backed by a 100% satisfaction guarantee. Simply reach out, and we'll ensure your concerns are addressed.
Piece of the puzzle
Jonni, I feel like I've finally found the last piece of the puzzle I needed to be successful in this gains game long term. Too often have I watched my gains grow and dissipate over the years due to my nutrition. I'm the naturally skinny guy that's never had a problem sticking to a workout regime for a period of time and would even go 4-5 times a week for at least 9 months. I saw gains, but could never hold them, and felt like I was always starting over which made me lose interest in lifting and I'd use the excuse of "holidays" to fall out of the gym the last three months of the year. All in all, I'm grateful for you and your team for putting this book together because now I no longer have any excuses not to have the physique I desire and progressive overload my life. Thank you for this final piece, I'll be sure to use it well.
-Erik Bounds II
Great job on book keep it up bro
Great insights on skill set nutrition
Life of pro bodybuilding lifestyle
I love The Final Diet eBook. Nutrition has always been my biggest problem with working out and getting in great shap and being healthy. Now that i have this book im learning all the things i need to know to accomplish my goals. Thank you so much for writing this book.
Very Informative!
I've been following Jonni on his YouTube channel for a while now. He's one of the few (and I mean FEW) fitness guys on the internet who I listen to because he keeps it real with his audience about himself and about the health / fitness information he gives out. The Final Diet is yet another example of that and I will definitely be using it to aid me in my fitness journey.
Nutrition Bible
This is exactly what i needed alongside my workouts. No nonsense knowledge. Thank you Jonni